The L.A. County Fair is a food fantasy come true for Stef Andrews, who makes an annual pilgrimage to try every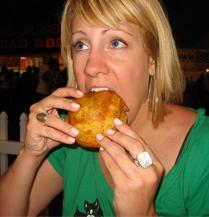 deep-fried delicacy, on-a-stick surprise and chocolate-covered treat we have to offer. So, it is only fitting that we announce Stef as the official 2010 L.A. County Fair Foodie! Stef, chief blogger at www.weheartthis.com, won our first-ever Fair Foodie contest. The contest looked for the best Foodie up to the challenge of covering all things food at the Fair.
Check out Stef's winning entry here. We are proud to welcome her to the Fair family and can't wait to show her around. She'll be blogging at www.weheartthis.com and tweeting @weheartthis to share all of her tastings and food encounters, so be sure to visit her blog for the latest and tastiest L.A. County Fair food updates. She'll be assisted by her co-editor, Tyna Werner, as they take the Fair by storm, leaving no crumb untasted!