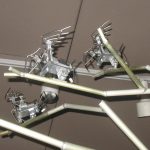 Things are shaping up at the Millard Sheets Center for the Arts exhibit From the Industrial Age to the Computer Age . . . Three Centuries of Artistic Innovation.
The entrance features a kinetic metal sculpture of a tree roosted with robotic birds, I kid you not. The tree trembles ever-so-slightly like a breeze is going through it, and the birds ruffle their wings individually, then do so in unison, as their eyes light up. It's just fascinating to watch. I want this for my backyard.
Progress is being made in each room. A steam engine dominates a corner of Room 1 now. Various old printing machines, provided by the International Printing Museum in Carson, have taken over a wall near the entrance of the next room.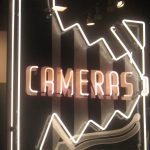 Photography was a huge industrial and artistic development, and gets its own special place in the exhibit this year. An enormous neon sign advertising CAMERAS in an Art-Deco design points the way to an exhibit of photographs, vintage cameras and more. Get your own cameras out to take a picture of that neon sign, on loan from Museum of Neon Art in Los Angeles.
The Gallery Store, twice the size it was last year, is full of creations by artists who will be doing demonstrations in painting, ceramics, sculpture and more. Get your ATM cards out, you won't be able to resist!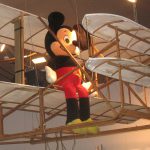 Kids will get plenty of inspiration to create their own airplanes in Room 5, where 1/2-scale model of the Wright Brothers historic bi-plane — with a 25-foot wingspan — hangs above (with Mickey Mouse at the controls). Not only kids can participate in the fun here – any Fairguest can create squares that will be added to murals to be displayed in the main exhibit, learn hands-on about ceramics, use drawing to solve problems, and create collages using "ordinary stuff."
Take a look at more by visiting the MSCAF web site here.