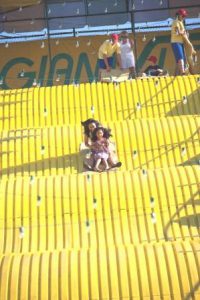 The Giant Slide – that big, huge wavy banana-like structure near the Flower & Garden Pavilion where you get potato-sack burns on your…well, where you get potato sack burns – is celebrating its 45th anniversary at the L.A. County Fair – and it's last.
After nearly half a century at the Fair, the Giant Slide is retiring. It's going to spend the rest of its days with the metal slide with sharp edges that I played on when I was a kid, the one that gave me third-degree burns sliding under the Inland Valley heat, and the twisty pool slide my cousins had that usually landed us on the cement edge of the pool rather than in the pool. Retirement homes for slides – Slideview Farms, Chute Chateau, The Swoosh Inn. Who knew?
With the Giant Slide headed for social security, that means you must take one last ride during this year's Fair! Grab a bunch of friends. Wear silly hats. Make faces as you whoosh over each bump. Enjoy the last thrills of an old Fair friend.
What are you memories of riding the Giant Slide?