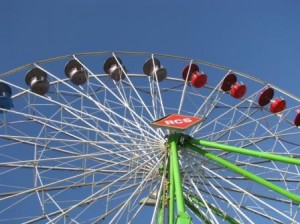 When you visit the L.A. County Fair this year, you'll notice something is a little different. Actually, a LOT of things are different! We've been building, moving, grading, shifting and lifting many things around the grounds to make all areas of the Fair easier for our guests to navigate. We are shaping up beautifully and I think you are going to love the results! It's like we went to a 12-month Day Spa and came back refreshed and ready to greet our more than one million guests.
The first big change you'll notice is the carnival has moved a bit southeast. It will be located closer to the center of the fairgrounds, in between the Flower & Garden Pavilion and the grandstand. The Grandstand Pavilion shopping area and the bbqs and spas have moved to make way for the carnival. The fabulous Ray Cammack Shows carnival will be back again for its 26th year with all the great rides, games and food you've come to enjoy – just in a new locale!
For all you shopaholics like me, we've located all the shopping in one convenient spot – the Shopping Place. This isn't completely new. The Shopping Place has always been located in the shopping buildings. But now ALL products and vendors will be in that neighborhood, including along the thoroughfares between the buildings. There will be the Shopping Shuttle Express, presented by Jeffrey Scott Fine Magnetics, that will take shoppers from Yellow Gate and back. The Grandstand Pavilion was removed to make way for the carnival, so all vendors who were in the pavilion are now at the Shopping Place.
The Sunset Cabana is gone, replaced by Outdoor Living, were all the spas and bbqs will be located. This is located on Broadway, near the clock tower.
A Pirate's Life has moved to behind the Shopping Place, near Red Gate. Esmeralda's Traveling Circus, a new attraction, will be on Redwood Street. Behind the circus will be the new Gypsy Camp, near the Sheraton Fairplex Hotel and Red Gate entrance. The camp will be full of unusual and strange sights to behold!
See? Lots of new things in new settings. I know you will love it! Forty-four days!