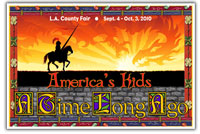 Good day good sirs and ladies! How fare thee? I, the mistress Fair-ey Blogster, doth agree to indeed bring cheer through the sharing of delights regardeth A Time Long Ago...Ok, my Old English Renaissance speak is pretty plague-sore. What I am trying to say is I want to whet your appetite for this year's Fair by previewing our America's Kids exhibit – A Time Long Ago…The Fair brings medieval times back to the future and a fantastic time will be had by all, be you knave or knight, damsel or dragon.
A big Huzzah is bestowed upon Mistress Nancy Bates and her excellent well staff who are creating what is sure to be a hit with kids of all ages (meaning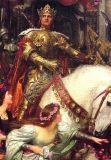 you, too, mom and dad). Fairplex building 10 is being transformed into a lavish castle and village, complete with a forest right in the middle. By completion, it will have taken Nancy and crew three month to paint, nail and reconstruct this medieval majesty. Nancy, a most excellent seamstress by profession, even designed and sewed the 30 period costumes you will see staff wearing during the Fair.
Inside the building, one section will be the village, with peasants, games and archery. The other side will be nobility, with a king, queen and wizard (who will join in the Fair's daily parades) and the town with a library and the medieval kitchen where some interesting cooking (using no modern appliances) will take place.
The forest, which will inhabit the middle of the building, will be an interesting place, as it is the magical spot where myths and legends and fairy tales were born. There will be tons of activities involving fairies, unicorns, trolls and there will even be real dragons!
Kids can enroll in Knight School. We'll have costumes to try on, so even you can be king or queen for a day. It's going to be amazing, so don't miss A Time Long Ago…presented by King Taco. Keep coming back to the blog as we post the "transformation" photos of how one building turns into a complete village of the Middle Ages!
Now, off with you!