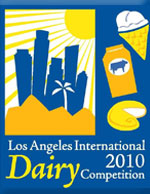 Dairy foods of all kinds from milk and cream to frozen desserts will compete in the Fair's 2010 International Dairy Competition.
About 45 dairy processing companies competed at the 2009 L.A. County Fair in the main divisions: Fluid Milk and Cream, Cultured Liquid Products, Sour Cream, Yogurt, Butter, Cheese (including goat's milk cheeses, sheep and mixed milk cheeses) and Frozen Dairy Dessert. Division class details and entry instructions are available at www.lacountyfair.com.
Entry  forms must be mailed back with $50 per item entry fees, postmarked no later than July 16 to L.A. County Fair, Attn: Dairy Products, P.O. Box 2250, Pomona, CA 91769. 
Samples for judging must be delivered to the Dairy Products Department located at Avalon Restaurant, across from the Grandstand. Enter at Gate 1 on McKinley Avenue. Deliveries must be made between Wednesday, July 28, and Thursday, July 29, between 9 a.m. and 4 p.m. Samples may also be delivered on July 30 by appointment only.
Contest samples may also be mailed to L.A. County Fair, Attn: Dairy Products, 1101 W. McKinley Ave., Pomona, CA 91768. Shipments must be packed in a proper container with an adequate amount of proper refrigerant (dry ice for ice cream and ice or "blue ice" for all others) to insure samples are received at the proper temperature.