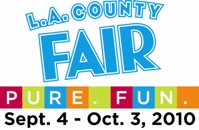 Holy cow! Does the counter on the L.A. County Fair website really say 70 days until the Fair?! Yes, it does. That's only 1,680 hours away (actually, about 1,677). And have we got a show in store for you! We are so excited about the new attractions, Fair favorites (Hot Dog on a Stick! I haven't had one since last year's Fair), the carnival and especially our new layout! Our grounds have received an extreme makeover and we can't wait for you to see it.
All the elements you love about the Fair will still be here. We moved the carnival closer to the center of the Fair and shifted all the shopping to a centralized location in the buildings and the adjoining tree-lined streets. Yellow gate (the one closest to the carnival) will move in a little closer and a special shuttle will jet (well, if you can "jet" at 5 mph) shopping-crazed guests to the shopping area. Basically, we are just moving things in a bit for easier navigation for our guests.
On the attra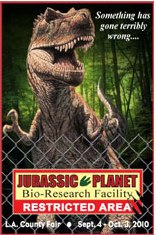 ctions side we have knights and castles in America's Kids, a whole new Pirate show in A Pirate's Life, dinosaurs are roaming the Fair once more in Jurassic Planet (but this time they are ANGRY and they want out!) and Western Days and Rodeo Nights in FairView Farms.
The End of Summer Concert Series will rock your socks off. Acts will be announced July 12.
There are a ton of discounts, we have a wonderfully priced season pass. Drop by and see me, the Fair-ey Blogster. Whatever you do, do not miss the 2010 L.A. County Fair!! It is totally Pure.Fun.