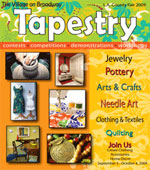 Artsy-crafty folks need to download forms now to enter the 2010 Tapestry competition at the Los Angeles County Fair.
Forms may be downloaded from here, but must be mailed back with fees postmarked no later than Tuesday, June 29 to LA County Fair, The Village on Broadway/Tapestry, P.O. Box 2250, Pomona, CA 91769.
Fees are $2 per entry for works submitted in the featured Tapestry competitions:
• Arts & Crafts
• Clothing & Textiles
• Jewelry
• Needle Art
• Pottery
• Quilting
Specific class information for each competition is also available online.
Entry deadlines are also June 29 for Tapestry featured contests – Christmas Tree Contest, Men Knit Too, Quilt Block Challenge, Project Hatway Contest, Warm Up America, and Help A Child Smile.
Entry items must be delivered between 7 a.m. to 8 p.m. on Tuesday, July 13, to The Village on Broadway/Tapestry at Fairplex, 1101 W. McKinley Ave., Pomona, CA 91768. Check in through Gate 1 off of White and McKinley, and follow signs to the drop-off area.
For more information, call Amy Pond-Cirelli at apond@fairplex.com or at http://www.lacountyfair.com.