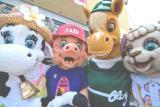 The L.A. County Fair is right around the corner and we are looking for some fun-loving people who'd like to be part of our team. We have immediate openings for mascots for our entertainment and marketing department. These are part time, temporary positions on an as needed basis.
Candidates must be outgoing and energetic and will be responsible tor promoting the L.A. County Fair as official costumed ambassadors at local community events.
Applicants must be 16 years of age or older and have reliable transportation to events throughout the surrounding Fairplex communities.  Must be able to wear and be mobile and interactive in a complete body costume, including character head, for extended periods of time with periodic breaks. Applicants will be required to put on costume and audition as a mascot during the interview.
The ideal candidates will have a performing arts background with experience in either dance or drama, although all applicants will be considered. Applicants must be comfortable interacting with a multitude of individuals in a community based setting. 
So, if you can dance around dressed as a cow, apply!