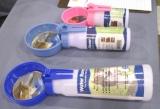 I guess I should clarify that. It's dog water bowls – ones you can strap to your belt or pant-waist. These are some of the unusual products/foods you can get at the Fair.
Water Rover is a plastic bottle wit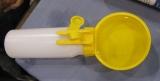 h an attached bowl for your dog to drink from when on walks. It clips to your belt or waist. You flip out the bowl, water comes out to fill the bowl. When you flip the bowl back, the unused water goes back into the bottle. Pretty cool. They range in size and in price, from $9 to $20.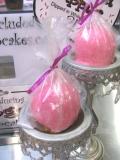 For those with an extreme sweet tooth, CB Cupcakes offers frosting shooters – little glasses filled with frosting (chocolate, vanilla, cream cheese) and sprinkles. Wow! They also have caramel apples – pink caramel apples. For the ultimate girl.