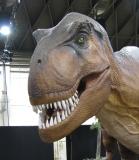 I trekked out to the land that time forgot this morning, also known as Fairplex 8, aka Jurassic Planet. Exhibits designer Michael Converse, our resident dino expert and artist extraordinaire, has done a fantastic job of planning the exhibit. Kids, and adults alike, are going to be thrilled. check out the videos below, which will give you an idea of what to expect with the animatronic dinosaurs. Theatrical lighting and a soundtrack will enhance Fair visitors' experience:

Above was a T-Rex and Torosaurus. Check out this one:

I'll see you, all my paleontological friends, at Jurassic Planet. Better hide your Kettle Korn; I heard Kentrosaurus loves Kettle Korn!