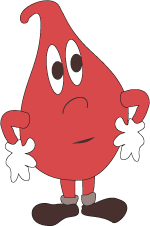 How can you be a lifesaving hero and have fun at the L.A. County Fair? Give blood at the Fair's and the American Red Cross' Blood Drive, Monday, Sept. 21, at the Sheraton Fairplex. You give us a pint, we give you a free weekday ticket to the Fair. Awesome! That young-Elvis-look-alike vampire on True Blood doesn't even do that! But Buddy the Blood Drop will!
All it takes is about 20 minutes for the actual process. The Blood Drive is from 11 a.m. to 5 p.m. The Sheraton Fairplex is at 601 W. McKinley Ave. in Pomona. To schedule an appointment, visit www.givelife.org. The sponsor code is Fairplex.
Great! Give blood and receive a whole day of attractions, entertainment, shopping and food in return! Gooooooo Donors!