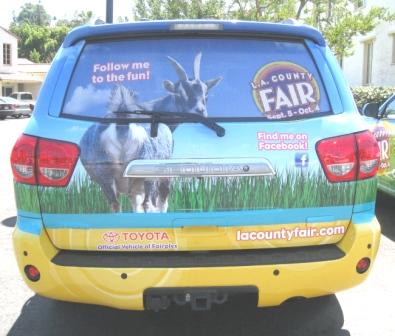 51 days. Yikes! Or should I say Hurray! It is T-minus 51 days before the start of the largest county Fair in the country! Signs are going up, buildings are getting painted, dinosaurs are shining their pebbly skin, dogs are barking (literally and figuratively!). Now, all we need is you!
To help you get here, we have these bright, fun Fair wrapped vehicles that you'll be seeing on the streets. Vehicle wrapping company Graphic Installations spent a few days "dressing" our vehicles, all Toyotas, the official car of the L.A. County Fair.
So, do as the goat says – Follow Me to the Fair!