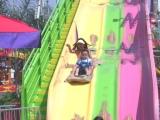 For all of you hardcore fans of the L.A. County Fair, those of you that will come more than two times during our run, have you heard about the Season Pass? Well, let me tell you about it. Have we got a deal for you!
It's like the Fair's own stimulus package. For just $24.95, you can purchase a pass that will get you in all 23 days of the Fair, weekdays and weekends, morning to night and every hour in between. Sounds like a pretty sweet deal, doesn't it? That's because IT IS! Just $24.95, a bargain worth more than $300. It's good for ages 6 and older (kids 5 and younger are free everyday!).
You can purchase your Season Pass now online or at any ticket window when the Fair opens. Let the L.A. County Fair open your window to End of Summer Fun!