Here is some Street Team news from our Fair Street Team Boss Kristy D (aka The Senator):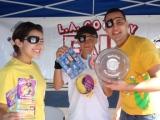 The Fair is sure coming up fast, just a mere 67 days until the big, NEW opening day!  Although we are a little ways out, you may still see us showing up at your local community events.  The summer months here at Fair are Street Team Season.  This means we are sending out our best and brightest young men and women to educate you on the Fair.  The Street Team mostly consists of teens and young adults from local high schools and colleges.  They attend events to inform people that the Fair is coming.  They hand out flyers, brochures and great swag including pins, pens, mugs, bubbles and t-shirts.  Some items may require you do to something a little out of the ordinary…if you want that shirt you are going to have to cluck like a chicken or show your Fair spirit by shouting it at the top of your lungs.
If this sounds like your kind of fun you can check us out this weekend at the La Verne, Claremont and Chino Hills 4th of July events.  Support your local community and enjoy some early signs that the Fair is just around the corner.  Oh, and don't forget: the louder and more zany you are, the better your chances are for some awesome prizes.