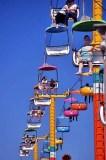 I just heard that we are getting a new skyride at the Fair this year! Actually, it's two new skyrides – one going down Palm from the clocktower to Fairplex 9 near Blue Gate and the other following along Broadway from Sunset Cabana to La Grande Wheel in the carnival. Way cool!
The skyride is a great ride and one of those that evokes fun memories of childhood or romantics ones from date nights at the Fair! The original was erected in 1993. I love walking around the grounds and having kids yell down and wave at me to see if I'll wave back. I always do!
Personally I think the best time to ride the skyride is during sunset! Lovely, serene, and if it's a good sunset, you can see an orange glow enshroud the fairgrounds. Beautiful!