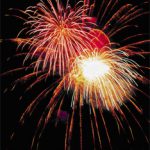 Most of my favorite holidays involve food and presents; my birthday (it's a holiday to me), Christmas, and Independence Day!
I know what you are thinking…there aren't presents on Independence Day. Well, I am here to tell you that you are incorrect! The day is full of wonder and excitement! All day we BBQ, eat, and spend time with our families while waiting in anticipation of the night, and the spectacular firework show in the sky.
But wait! Most places these days don't allow the cool fireworks, if they allow fireworks at all. I know, I know… it's not like it was when I was a kid, but I have the solution!! KABOOM!
Here at Fairplex you can join us for KABOOM, our Fourth of July Celebration. After you BBQ and eat lunch, join us for an All American dinner (oh yeah!) and await the fireworks spectacular while watching Monster Truck and Big Air Freestyle Motocross.
This is not too good to be true! We only get to watch these amazing fireworks once a year so why not go big! You know what they say "go big or go home." I can't wait to see you there!