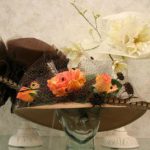 It's almost May and I have to say that I'm getting excited! The Fair is right around the corner, the Los Angeles International Wine and Spirits Competition, and the Los Angeles International Commercial Beer Competitions are coming up VERY quickly, and on May 2nd we are having a Kentucky Derby Party!!!
Yup… I said PARTY and everyone is invited. I know what you're thinking….. what a fun place to work, and you would be correct. The fun will begin at 7am for you die-hard fans, and for those of you who will still be in bed at 7am (like me) it will still be exciting at around 10am… I promise!
We will be celebrating in true Churchill Downs fashion with mint juleps, big crazy hats, and the loudest cheering possible! While most of my Fairplex friends are excited about the race, I admit that I am most excited about the hats!!! We are even having a hat contest and you can sign up that day! I work here so I can't participate in the contest… but I will still be wearing the most outrageous hat that my creative mind can come up with.
Join me at Fairplex Satellite Wagering – It's going to be a great party so bring on the horses and the hats!