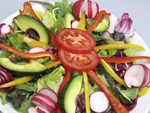 Did you read that recent story in the the LA Times about the healthy fare being offered at Dodger Stadium? They're offering Greek salads with fresh basil, turkey sandwiches on wheat and fruit parfaits. They said with the rising cases of childhood obesity, they wanted to offer an alternative to the 240-calorie Dodger dog and 1,000-calorie nacho plate.
Just so you know, we care about your health as well! And we know that not every visitor to the L.A. County Fair comes for that deep-fried whatever. We jumped on this bandwagon awhile ago – afterall, part of the edutainment of FairView Farms is teaching visitors about nutrition. We offer an array of healthy cuisine, from salads to fruit smoothies made with fresh fruit (not frozen) and chicken gyros with all white-meat chicken and vegetables.
Last year nutritionists from McDonalds came out every weekend to offer tips on healthy eating. The message was: make the right choices. It's ok to indulge once in a while. So if you've waited all year long for that deep-fried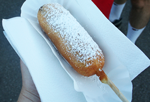 Snickers bar or deep-fried frog legs or Ten-Pound Buns or massive deep-fried onion blossom or Hot Dog on a Stick (sorry, that's for me) – go ahead and try one at the Fair (ONE, we said one. Well, one with each visit). And don't even think I'm going to provide you with the calorie count on these goodies! Sheesh – I'm trying to encourage you to come to the Fair!
So, from now until September, eat your fruits and vegetables, whole grains and drink plenty of water. Come Sept. 5, you can cheat a little.