What's better than a friend who comes bearing the best in Fair-time gifts? Mackinac Island fudge, Hot Dogs on a Stick, super-absorbent chamois, great entertainment, Monster trucks, dinosaurs, horse racing and everything deep fried. And the answer is that same friend on Facebook.
Yes, even the L.A. County Fair has a Facebook page. We post all the latest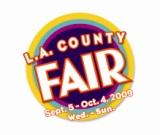 and greatest info on the upcoming Fair. You can also see photos and connect to our various blogs (including this super spectacular one. Hey, maybe the Fair-ey Blogster should start her own page!). Fairplex also has a page, too.
So, what are you waiting for? Add the Fair as a friend!