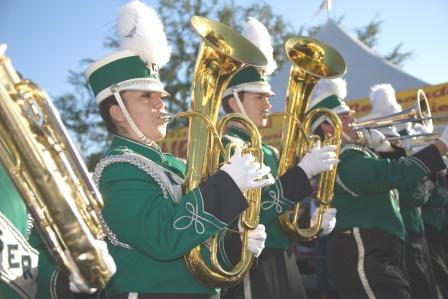 Hey all you Marching Bands out there! Have you heard the great news? The L.A. County Fair has partnered with the Tournament of Roses parade association to offer a once-in-a-lifetime experience. The winner of the Fair's Marching Band competition will get the opportunity to play in the 2011 Tournament of Roses parade! That's right – the winner will get to strut their stuff down Colorado Boulevard in all their glory for the world to see. Pretty cool, isn't it?
The honor stems from a five-year pact forged between the Los Angeles County Fair Association and the Tournament of Roses Association. This year's winner will march in the Tournament of Roses Parade Jan. 1, 2011, allowing for the preparation time necessary for the world's best known parade.
What's unique about this new partnership is that the Fair's competition is the only high school band event in which the winner gets a berth in the Tournament of Roses Parade. How cool is that?
Bands will still compete for the competition's top prizes of $5,000, $3,000 and $2,000 for first through third places respectively. But how can you beat a trip to the Rose Parade? That's like a marching band Grammy! The L.A. County Fair High School Marching Band Parade Competition kicks off the band competition season. The Fair's distinguished contest draws the top marching bands from throughout Southern California. In its current incarnation, bands march in festive parades held daily during the Fair. The Fair's expanded 2009 dates, Sept. 5 through Oct. 4, will allow fo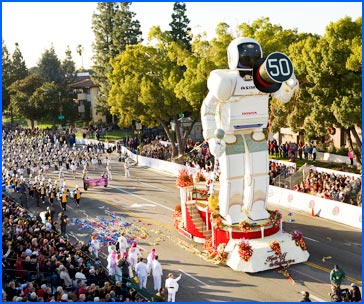 r more bands than ever to compete, with spots available for 40 participants. Schools may contact the Fair's entertainment department, (909) 865-4506, for more information.
For 120 years, the Tournament of Roses Parade has featured majestic floral floats, high-stepping equestrian units and spirited marching bands. It is one of the staples of America's New Year's holiday. Approximately 40 million Americans watch the Rose Parade on television, as well as millions of international viewers in more than 200 territories around the world. In addition, the Rose Parade is broadcast live by nine networks: ABC, NBC, HGTV, Tribune, Univision, Telemundo, Travel Channel, Discovery HD Theater, Sky Link TV. 
Kinda' makes you want to strap on a tuba, doesn't it?