The foundation on which the L.A. County Fair was built can be summed up in one word – community. Back in 1922, the year of the first Fair, the purpose of the Fair was to promote the agricultural, horticultural and animal husbandry interests of the great Southwest – to the community, for the community.
Zoom ahead 87 years later and that foundation remains solid. The grounds have changed but the purpose remains to give back to the community, to entertain the community, to offer the community an educational adventure that cannot be matched. Yes, the community has changed – it's much larger now, more diverse, encompassing a region not just a small city. But we love it, and love being apart of it.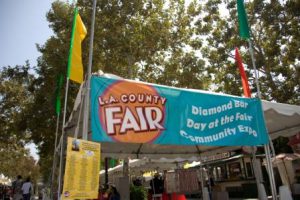 Each year we celebrate several neighboring communities and the local heroes who live there. So, start thinking about a deserving individual who contributes to her/his community and keep them in mind when we start seeking nominations in late Spring/early Summer. Don't forget to come out on your cities' day and celebrate with your community. Some of the cities have an Expo that features several service organizations, community agencies, churhces, schools and more who offer information on things you might not know about.
Right now we have a partial list of Community Days for 2009:
Pomona, Friday, Sept. 11
Glendora, Wednesday, Sept. 16
Diamond Bar, Thursday, Sept. 17
San Dimas, Friday, Sept. 18
La Verne, Wednesday, Sept. 23
Claremont, Thursday, Sept. 24
Chino Hills, Friday, Sept. 25
More will be added for a total of 22 Community Days. Community Days include a parade, a Community
Heroes ceremony, a day at the races and lots more fun. Save the date!