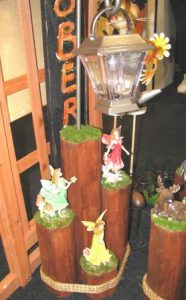 Did you know you can get your teeth whitened at the Fair? Walking around the shopping buildings, I found some interesting items. So here is my second blog on interesting products:
1) Teeth Whitening by BleachBright – for only $99, get a brighter smile in 15 to 20 minutes. Dental chair and everything. Can be found in Building 6, booth 6230.
2) Decorated Solar Lights – the coolest twins at the Fair, Bebe and Mimi run All Seasons Promotions, booth 6313 in Building 6. They have a ton of neat products, lots of sports things (great Xmas gift for the sports fan on your list – sports team Christmas wreaths), some Halloween stuff. I loved the solar lights for yards, decorated with simulated tree stumps and other fun things like fairies, frogs, gnomes. $65, real cute.
3) Also in Building 6, right in the middle, Mom's Chocolate Chip cookies, made on the premises (smells soooo good) with Ghirardelli chocolate.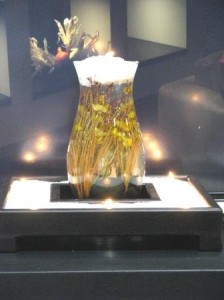 4) On Sycamore Street, for teens, decorate your own belt. Cool idea.
5) 10 Wicks – wicks are placed in wax crystals which look like glass. each wick burns for 10 hours, fragrance-free, no smoke, no soot. Buy just the wicks and crystals and make your own creation out of a vase or wine class, or buy a decorative wooden candle box from them. These are really nice, very elegant looking. Wax crystals are white, but can be colored. Building 4, check 'em out. 
�