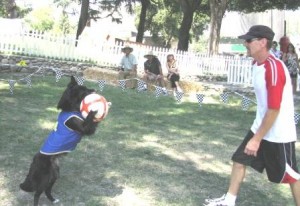 I had posted pre-Fair about Soccer Collies, the sensational duo who are here at the Fair every day in Bark Park, presented by Canidae all-natural dog food. Well, you have to come see them. These dogs will go head to nose against anyone in front of a soccer goal. Ms.Z (prounounced Mizzy) and Bek (named after David Beckham) are fun-loving, soccer-loving dogs. That's Ms.Z catching the ball from earlier today.
Owner/trainer Mark Lukas trained the dogs on his own. He said it didn't take long for either of the two to learn some serious soccer moves. He said it takes patience and persistence. The more they play, the more they learn, and Bek, the younger of the two, learns alot just from watching Ms.Z. Ms.Z has even gone up against a pro from the Chivas team, scoring some goals.
 So get your AYSO youngsters out here to see what Ms.Z and Bek can teach them!