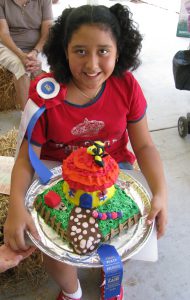 This weekend there are several America's Kids competitions being judged. Last night it was best Holiday cookie, tonight its best Oatmeal cookie, tomorrow its cooking and baking.
This afternoon I went to the Creative Cake competition. Let me tell you, these kids are amazing! I was glad I was not judging – I would've given everyone a blue ribbon. And I was thrilled to see an equal amount of boys and girls who entered. Jacqueline Rodriguez of Whittier took the sweepstakes in the pre-teen division. Aubrey Wilde of Tujunga took first place in the youth division. I thought I'd post a few of the winners.
Entering the America's kids competitions (and there are a lot!) is a fun experience for children. If you didn't get a chance to do it this year, keep it in mind for next year.