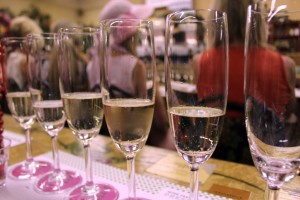 One way to relax at the Fair is to participate in our wine education program. Top chefs and wine experts share their knowledge with guests, providing wine and cheese for all! (21+) You can get the full schedule and list of speakers here.
Tonight, Playboy Mansion's Executive Chef William S. Bloxom-Carter will be at the Wine, Beer & Spirits Marketplace to reveal some of his best tips for successful hospitality, hosting parties and of course, the best wine. Be sure to check that out if you get the chance!
On Sunday I had the pleasure of learning from Rene Chazottes, the director of wine at Newport Beach's Pacific Club and Maitre Sommelier in his session: "Celebrate! Every Day's A Good Day for Sparkling Wine." He served six different wines, made from Spain, Italy, New York, Australia and France as well as four cheeses.
The first, Montcadi Cava, Metodo Tradicional was a bronze medal winning wine from Spain, soft on the palate, leaving a delightfully sweet, crisp feeling. Paired with the French Tomme de Savoie cheese, this wine gives off an edgy, aromatic flavor. Don't let the $6 price fool you either. This wine is better quality than the price lets on. As Rene said in his session, "I'm not cheap. I'm inexpensive!"
The second wine was from Italy. Rene claimed it to be the most popular of the six in America. Third up was Rene's personal favorite, silver medalist Chateau Frank, Blanc de Blanc from New York, heavy on the palate and the most complex of flavors. This wine had a greenish tinge, indicating a cool climate where the grapes never fully ripen. Fruity and deliciously fresh was the sparkling brut from Rack & Riddle, combining strawberries and raspberries. Fifth featured was a brut cuvee from Jacob's Creek in Australia, pale and sweet in comparison to the previous two wines.
The crowd favorite was, by far, wine #6: Le Grand Courtage's Cremant Rose, straight from France. This wine had a light pink color to it which, according to Rene is on account of the number of grapes used to create the wine. Originating from the Loire Valley and finished in Bordeaux, makers wait for as long as 18 months before they sell this wine. Rene suggested pairing this drink with one of the world's finest cheeses, the French Societe Roquefort. It's intense flavor pairs well with the light, sweet taste of the wine.
All six wines had unique traits. Rene had Fairguests see for themselves through scent, color and of course, taste. If you would like a chance to learn more about wine, cheese and olive oil, be sure to stop by!