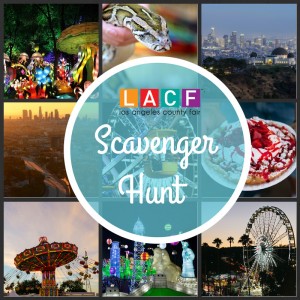 Dozens of prizes.
Eight locations.
Four days.
Two weekends.
It's the LACF Scavenger Hunt!
Play with us August 2-3 and 16-17 to get your free LACF goodies.
How it works:
The LACF hosts will be hanging out in locations all over Los Angeles with goodies like Fair admission, concert tickets, LACF t-shirts, pins and other fun things, just for you!
Your mission, if you choose to accept it, is to find hidden LACF prizes throughout L.A. We will be posting photo clues on our Instagram account (@lacountyfair) to guide you to each location. You can also find these clues on our Facebook and Twitter.
Clues will be revealed every hour, on the hour beginning at 10 a.m. each day of the scavenger hunt. Only two LACF scavenger hunt locations will be active per day: one in the morning and one in the afternoon.
The Rules:
It can't be a game without rules, right? It's pretty simple:
1. Follow us on our social media channels for clues. Each clue will lead you closer to the location of the prize. We will be posting all of our clues on Instagram but you can follow along on Twitter and Facebook too! Track clues and document your journey using the hashtag #discoverLACF.
2. Get moving! Each clue leads you closer to the prize destination, getting more specific with each new photo. Make sure you take your selfies at each clue location!
3. Find the LACF host (we'll announce who's on deck for the day) and collect your prize! Remember, it's first come, first serve. We will post a "secret" password on the final clue that you'll need to show  to prove you've been playing. Once you collect your prize, it's yours to keep. Don't forget to share your win on social media using #discoverLACF!
Happy hunting!
The full LACF Scavenger Hunt Terms & Conditions are available here.
*Photos of downtown Los Angeles and the city skyline courtesy of porbital from FreeDigitalPhotos.net
by