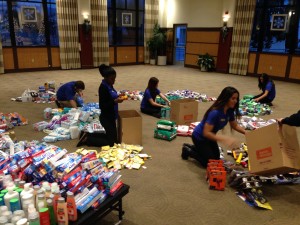 We were all saddened when we learned of the devastation the people of the Philippines have suffered from Typhoon Haiyan. Our Junior Fair Board (JFB) decided to help out.
JFB members collected more than 4,000 items from donators from the local area and organized all the items to be picked up by Operation USA.
Fairplex employees also donated and some even took time out of their day to help collect and sort out donated goods! In total, the Junior Fair Board was able to collect:
845 toothbrushes
78 packages/boxes of gauze
119 rolls of bandages
149 boxes of band-aids
146 tubes of antibiotic cream
59 containers disinfecting wipes
498 bars of soap
288 baby bottles
118 bottles of body wash
291 tubes of toothpaste
423 batteries
281 flashlights
211 containers of baby wipes
7 packages of diapers
204 bottles of shampoo
460 other miscellaneous items
The L.A. County Fair would like to thank the the Junior Fair Board and community members who willingly made the extra effort to give assistance to the people of the Philippines.
The Junior Fair Board is comprised of high school juniors and seniors who are focused on enhancing their leadership and life skills and who have a heart for community involvement. For more information, visit www.tlcfairplex.org
by