One way to relax at the Fair is to participate in our wine education program. Top chefs and wine experts share their knowledge with Fairgoers, providing wine, crackers and cheese for all – as long as you are 21+.
Last week, Sharron McCarthy joined us at the Wine, Beer & Spirits Marketplace for a class in which she shared her best tips for successful hospitality, hosting parties and of course, the best Chilean wine.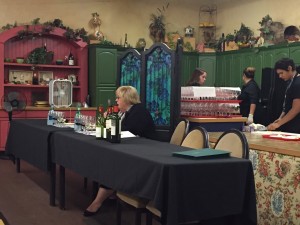 Sharron's "Charming Chile" class served six different wines (made in different parts of Chile), as well as four delicious cheeses.
The Wines
Natura Sauvignon Blanc
– Color: Transparent yellow
– Taste: Citrus and herb notes reappear on the palate. A fresh, bright and pleasing wine with nicely balanced acidity and good persistence
– 100% Sauvignon Blanc
– Pairs well with ceviche, sushi, smoked ham, goat cheese and salads
Signos De Origen La Vinilla
– Color: Golden yellow
– Taste: Lush and full on the palate with tropical fruit flavors and pleasing acidity
– 68% Chardonnay, 13% Roussanne, 12% Viognier, 7% Marsanne
Signos De Origen Syrah 2012
– Color: Deep purplish-red
– Taste: Beautiful fruit and voluptuous texture complememted by well-balanced acidity and overall tremendous structure.
– 97% Syrah, 3% Viognier
Concha y Toro Gran Reserva Serie Ribera
– Color: Deep Red
– Taste: Well structured, with concentrated flavors of red fruit and sweet tannins.
– 90% Cabernet Sauvignon, 10% Carmenere
– Pairs well with beef and pork dishes, and ripe cheeses.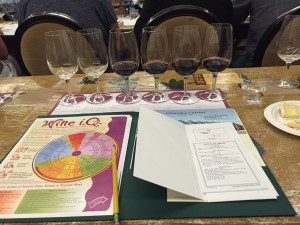 Concha y Toro Marqués de Casa Concha
– Color: Dark ruby red
– Taste: Concentrated flavors are revealed in firm tannins with a soft, silky texture and a lingering finish
– 93% Cabernet Sauvignon, 4% Cabernet Franc, 2% Syrah, 1% Petit Verdot
– Pairs well with red meats, cheeses, and hearty pasta dishes.
Coyam
– Color: Intense violet-red
– Taste: Beautifully balanced and full on the palate, good structure with osft, round tannins. Elegant expressions of fruit delicately interwoven with oak, mineral, and toffee.
– 41% Syrah, 29% Carmenere, 20% Merlot, 7% Cabernet Sauvignon, 2% Mourvedre, 1% Petit Verdot
– Pairs well with roasted red meats, strong cheeses, and pasta with spicy sauces. Also marries well with dried fruits.
All six wines had unique traits. Sharron had Fairguests see for themselves through scent, color and of course, taste. If you would like a chance to learn more about wine, cheese and olive oil, be sure to stop by!
You can get the full schedule and list of speakers here.