Today's food competition was all about the chocolate: Chocolate chip cookies and brownies, that is. Walking into Culinary Styles is like a waft of heaven with the warm, inviting scents of freshly baked cookies and rich, chocolaty brownies drifting towards your nose. I have to say, I envy the judges of their job yesterday!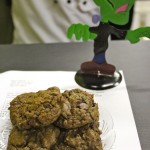 In first place for chocolate chip cookies was David Miller, Los Angeles with his Gramercy recipe, a gooey sweet treat that made the judges coo in delight. Second place went to Jessica Kubel, Monrovia for her unique chocolate bacon toffee cookies. In third was Maya Howard, Montclair for her fun Frank n Chips cookies, getting into the spirit of Fall with a classic Halloween character.
The brownies were equally fun to look at. Danielle Buckland from Ontario snagged first with her Blondies brownies creation. Jessica Kubel took second again with her white chocolate mixture!