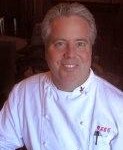 There weren't any bunnies but plenty of Hugh Hefner style last night when Playboy Mansion executive chef William Bloxsom-Carter offered tips on how to entertain to a roomful of eager listeners at the Wine & Spirits Marketplace. The affable Bloxsom-Carter presented with all the elegance and charm befitting an employee of Mr. Hefner and the Mansion. Adhering to strict employee confidentiality rules, the chef did not spill any juicy Playboy secrets, much to the chagrin of us in the audience. But he did share some insight on how to host a fantastic party that all guests would enjoy.
Some of Chef Bloxsom-Carter's suggestions:
Wine – He said learn about wine by tasting. At the Playboy Mansion, he tries to have something for everyone. At your own party, think about a 50-50 consumption rate on red and white wines. "At the end of the day, it's all about your guests having a great experience," he said.
The Secret to Entertaining at the Playboy Mansion – it's all about planning, planning, planning. Even at your own party, be it small or large. Make sure you have enough ice, watch your service stations if it is a large party (keep the line flowing), anticipate your guests' needs.
Themes – use fun themes. Chef Bloxsom-Carter shared a few menus from past Mansion parties including Halloween-, Super Bowl- and Fourth of July-themed foods. For Fourth of July the menu included hot dogs and popcorn – it doesn't have to be complicated.
A few other good thoughts: understand your client or guest – think of what they'd like; a $10 bottle of wine can be fabulous; don't get stuck in the kitchen.
One last tidbit – s'mores. He said s'mores have been the hottest trend in desserts for the last few months. Would you like s'more? Why, yes, I would!