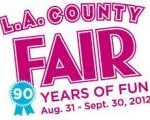 Hey, happy new year! I know it's almost March but better late than never. And what a great year this is going to be! In case you haven't heard, the L.A. County Fair is celebrating its 90th anniversary AND we are opening on Aug. 31 – the earliest date ever for the Fair. We have big plans for our opening birthday weekend celebration, but more on that as we get closer.
Right now, we want to hear from you. Kristy, our intrepid social media guru, is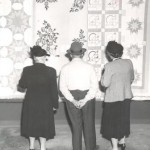 compiling Fair memories, and she needs your help. You've probably already noticed the historical Fair photos she has been posting on Facebook. Aren't they great? It's fun to see what the fairgrounds used to look like 40 and 50 years ago. And the clothes people wore – men in suits and ties and women in dresses, stockings and heels! So formal. I love it. Can you imagine riding Techno Jump in a suit?
Put your eyes to Kristy's appeal for Fair memories:
One of my favorite things about working here at the Fair is the stories of "yesterday" I get to hear.  From a random Fair guest telling me of her first kiss on the Ferris wheel in the 1940s with her future husband to a fellow employee talking of the days before we had a website (unfathomable to my young mind).  But now I want to hear your stories, the amazing memories you're willing to share with me and with the world!  I know we all remember our first Hot Dog on a Stick.  Or how about our first Fair where we could partake in the adult beverages?  Every Fair we create memories and I want to hear them.
I'll go first. Growing up, the Fair was a family tradition for me.  I have never missed a year of the Fair (even before I worked here).  There's a photo of me at all of 11 months old buried deep in one of our photo albums from 1989, me in dad's arms with a Clydesdale standing majestically behind us.  The look on my face is pretty awesome too, it's sort of a cross between horror and awe.  I can imagine myself thinking, "What in the world are they feeding this guy?"
I'll be posting stories similar to this from myself, other team members and Fair guests on Facebook.  Do you want to be a part of this fun anniversary celebration?  Send me your stories!  It can be as short or long as you would like it to be.  Just email them over to Dahlstrom@fairplex.com and you may be featured anywhere from Facebook to our e-blasts.  I'm looking forward to hearing all your amazing memories!
OK, you heard Kristy. Start remembering, reminiscing and writing!