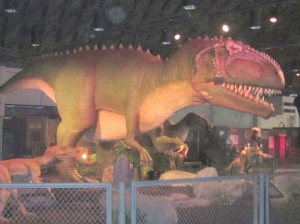 Jurassic Planet is getting a new dinosaur tomorrow and this one will not just be fenced in in our bio research facility–it will be on the move and walking among us!
The Natural History Museum in Los Angeles has generously let their living, breathing, moving T. rex spend Friday, Sept. 30 at the Fair. I mean, even dinosaurs get a hankering for a funnel cake and a roller coaster, right?
The T. rex will be out visiting with guests for about 20 minutes at time over by Jurassic Planet. He'll be there during the following times:
10am
11am
1pm
2pm
The T. rex is only here Friday, so make sure you stop to say hello! Below is a video of Mr. Rex, on the loose at the Natural History Museum. You can also find out more about how they've brought a dinosaur to life on their website.

View more videos at: http://nbclosangeles.com.