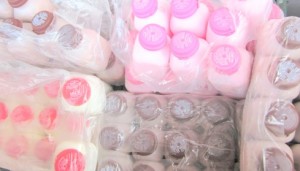 We take our dairy pretty seriously here at the Fair. We've got lots of cows, baby calves and even milk! That's right, our cows also provide milk that Fair guests can enjoy. Pop over to FairView Farms and enjoy some of the freshest milk you've ever tasted. We've got chocolate, strawberry and the plain-ol-good-for-you white stuff. The ladies at Moo Market told me that chocolate is the most popular.
You can also watch the stuff come right from the source at the milking demonstrations by the Dairy Council of California at 1:30pm, 3:30pm, 5:30pm and 7:30pm. You'll learn all about milk production and why milking is healthy for the cows.
Students participating in FairKids field trips get a free milk when they use their coupon! Proceeds of the Moo Market benefit the Dairy Education and Training Center in FairView Farms. Hurry! Fresh milk ends when the Fair does on Oct. 2!