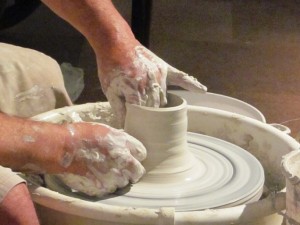 There are few times you can look at a piece of art and ask the artist exactly what he or she was thinking when making it. If you have burning art questions (or just want to chat), the artists of the Millard Sheets Gallery are right next to their art, plying their craft. You get to see genuine art in the making. We've got painters, wood carvers, glass artists, jewelry designers and potters who will create things of beauty right before your eyes. But don't be shy, ask them about their work. You'll find out things you would have never even thought to ask and some might even give you a chance to try it out yourself.
The Millard Sheets Gallery also offers a space for guests to try their hand in different art projects and screenings of arts-related films and documentaries. Swing by the gallery to see when all the fun happens.
p.s. We still have our lunch box contest going… see this post.