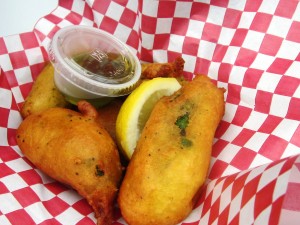 You can hear your mother now—"Eat your fruits and vegetables." This childhood chore becomes much easier when your fruits and vegetables are sourced from the Fair. Everything here is a little bit more fun—even our food!
Take for example deep fried avocado. Friends Rosie, from West Covina, and Gino and Christine, from La Puente, couldn't stop saying how delicious it was between bites. They'd eaten several fried treats at the Fair (Twinkies, Oreos and more!), and the consensus was the deep fried avocado was the best.
"It's kinda like avocado on garlic bread with olive oil," Gino said when asked to describe the taste. "It's just good," added Rosie.
Deep fried avocado is served with pesto, a slice of lemon and ranch dressing. It comes from Chicken Charlie's, which serves up other fried veggies like mushrooms, zucchini and onions.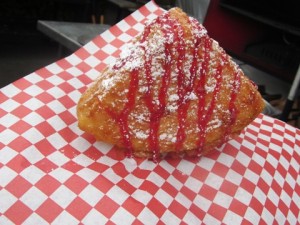 You'd expect Cardinali Woodfire Pizza to make a really great pizza (and they do), but deep fried watermelon on stick? Ummm, where'd that come from!?
"It was actually something I thought of when I was asked to be at a watermelon festival. They wanted me to do something special," manager Anthony said, though he likes to tell fairgoers it was invented by an Italian chemist. "Everyone loves it!"
According to Anthony, no one else is doing a deep fried watermelon on a stick (rind an all!). They key he said is premium, seedless melon. It is topped with powdered sugar and drizzled with a strawberry sauce. The crispy outside, plus juicy inside almost gives it the taste and texture of a donut. If you like watermelon, you will love this!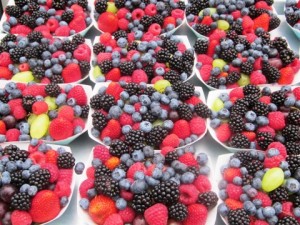 For a fruit of a different sort, Fair staple Terri's Berries serves up all kinds of fruit. Their chocolate dipped strawberries are by far their best sellers, which come in white, milk and dark chocolate. They are some of the juiciest strawberries you will ever bite into. But, if you want to hold back on the sugar, baskets of berries sell for about $6 each. They also make a mean smoothie.