Now that's a competitor.
Lynette E. Favorite drove all the way from San Diego to participate in the 2010 European Pastry competition in Culinary Styles.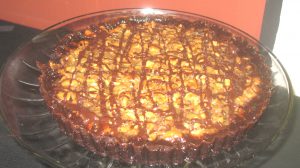 The 3-hour drive proved worthwhile when her Cashew Macadamia Tart won the blue ribbon.
Going the extra mile in culinary creativity was Susan Asato of Aliso Viejo, who created Vegan Apple Pear Tarts with Apple Frangipane Filling, to which the judges awarded 2nd place. Judges praised her innovative adherence to vegan guidelines in developing the sweet treats.
Heather Moloian of Thousand Oaks took home 3rd place for her Russian Tiered Mocha Pavlovas with Mocha Pecan Cream & Ganache.