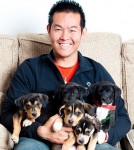 Dog owners have been cautioned not to share "people food" with their tail-waggin' pets. Chef Edward Mac of La Verne begs to differ and will show pet lovers how to concoct healthy cuisine for their dogs and eat it, too, during cooking demonstrations at the Fair's Bark Park Canine Kitchen.
"I eat everything I fix for my dog," the chef said, crediting a German Shepherd mix named Sapphire with inspiring him to develop his own canine cuisine based on information from other published canine chefs and vets.
Chef Mac will be cooking up a variety of foods Thursdays and Fridays at 7 p.m. and Saturdays and Sundays at 1, 4 and 6 p.m. His menu for Opening Weekend offers choices one would find at a fancy restaurant for humans:
• Saturday, 1 p.m.: All American Favorites – Carob Chip Cookies and Peanut Butter Chip Cookies. 4 p.m.: Chicken Fried Rice. 6 p.m. Alaskan Pink Salmon & Rosemary Cake with Vanilla Yogurt Frosting.
• Sunday, 1 p.m.: Apple Cinnamon Breakfast Muffins. 4 p.m.: Luscious Lasagna. 6 p.m. Blondie.
• Monday, 1 p.m.: BBQ Beef Tips, 4 p.m. Red Snapper Stew, 6 p.m. Peanut Butter & Apple Smoked Bacon Cupcakes.
"People love their dogs, and when they make food for themselves, they want to share some of it with their pets," the chef said.
The graduate of Le Cordon Bleu-Pasadena has catered events for many celebrities, but also has a passion to teach cooking. Through his Canine Culinary School: Cooking Classes for People and Their Pets, Chef Mac often teaches students who have never cooked before.
"They may not have had enough self-confidence to cook for themselves, but once they get a pet there's added motivation to cook food with healthy ingredients for their dog," he explained. "By the time I've taught them how to cook for their dog, they've learned enough to prepare a three-course meal for themselves."                          �
Photo by Mike Garcia, MSG Photography