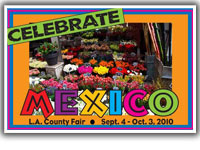 Did you know the poinsettia is native to Mexico? I know you all thought this iconic Christmas flower was from someplace like England. The Aztecs made a reddish purple dye from the flower. Discover facts like this and more when you take int the beauty of Mexico's flora at the Fair's Flower & Garden Pavilion. Themed Celebrate Mexico, in honor of the country's bicentennial, the Flower & Garden Pavilion explores the brilliant flowers from the poinsettia to the floating gardens of Xochimilco.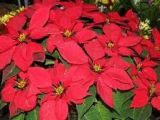 Mexico is a land of vibrant flowers used in spectacular celebrations as well as everyday life. You will learn the signficance of why certains flowers are used in holidays like Day of the Dead and which areas of the coutry are petal bountiful!
Be sure to bring your camera. F&G coordinator Jim Hynd and crew always do a fantastic job with flowers. And don't forget to stop and take a deep breath. It smells fantastic!