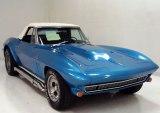 For the last five years, the Foundations at Fairplex and the Rotary Club of Pomona have joined forces during the Fair to raise funds for community programs and give one lucky Fairgoer the opportunity to drive home in a beautiful classic car!
For just $20, you too can purchase a chance to win a 1966 Corvette Convertible at the raffle booth on Palm in front of Building 6.  For the last two years, the winner of the car purchased just ONE ticket.  Stop by and check out this amazing ride for yourself – someone is going to win, and it could be you! 
The winning ticket will be drawn on closing night of the Fair, Oct. 4, at 7 pm, and all of the proceeds benefit local causes like the education programs  at the L.A. County Fair!