The schedule of the Wine & Spirit Marketplace's wine education classes is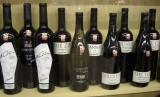 now up on our Web page for you to peruse and register for a seat. The Fair's wine education program, run in conjunction with the Los Angeles International Wine & Spirits Competition, is extremely popular – and worth the effort to get to one. Some of the top names in the wine, spirits and olive oil industries lead the classes. And besides learning a lot, you'll have a fun time.
To whet your appetite we have: Wines of Santa Barbara County with Wes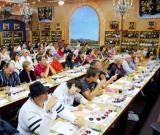 Hagen, winemaker for Clos Pepe; Wine, Cheese & Chocolate (yum!) with Mark Newman; Wines of Spain with Adam LaZarre, winemaker of Villa San-Juliette, formerly of Hahn Estates; Spirits 101; and Bottle or Box – A Whole New World of Wine.
Each class features a minimum of six wines and each participant will receive a tasting ticket for a taste of a Gold Medal winner from the International Tasting Bar. The cost is $17 per class.
Besides wine, we have Chef Henry Gonzalez of Spaggi's Restaurant who will be out on four occasions to conduct a cooking class.
Wine education classes are held every day of the Fair. Check the Web site for a schedule.