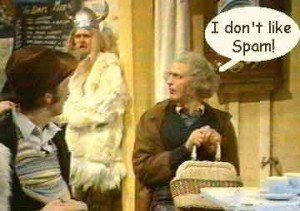 The SPAM bit from Monty Python has always been a favorite of mine (I love you Terry Jones!) and helped make the gelatinous canned-meat delight a household name to another generation.
Well, we at the LA County Fair would like to think we are introducing the rectangular good-right-out-of-the-can specialty to yet another generation. That's right – it's time for the Great American SPAM Championship – with youth and adult divisions! This Wednesday, 7 p.m. sharp, at the Culinary Styles Gourmet Kitchen, presented by Sparkletts, judges will huddle and compare notes at they taste amazing appetizers prepared from the delectable, unforgettable, porkalicious canned crazed known as SPAM. The winner of the Fair's competition will be headed to the national finals with an opportunity to be named King or Queen of SPAM! Past contestants here at the Fair have made some pretty interesting dishes – SPAM sushi, SPAM quiche and SPAM-stuffed pasta shells.
FYI, did you know that in the U.S., 3.8 cans of SPAM are consumed every second? Or that Hawaii has the highest SPAM consumption per capita in the world? Wow.
�